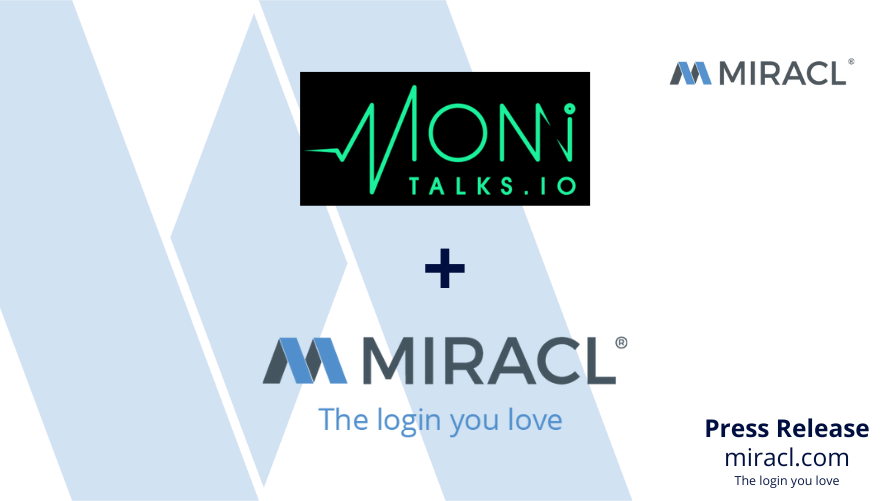 Moni Talks, the all-encompassing crypto exchange and educator platform, has today announced a new partnership with MIRACL, in a bid to ensure all its users have the opportunity to experience a login with single-step multi-factor authentication (MFA) - highly secure yet incredibly easy to use. 
Moni Talks is a unique crypto community platform that not only creates an online environment for crypto investors to share their thoughts with other like-minded individuals, but to also use its user-friendly cryptocurrency exchange that promotes responsible trading.  
MIRACL is the world's only passwordless, single-step multi-factor authentication - a two-second PIN or biometric login is all that is needed to authenticate. No data is stored and a second device isn't required by the user. 99.9% of consumer-facing logins are successful, ensuring a seamless login experience for all individuals accessing Moni Talks community in the future. 
Brendan Beeken, CEO and Founder of Moni Talks comments, "At the heart of Moni Talks is the user experience. With the login acting as the gateway for any Moni Talks user, it goes without saying - in order to align with the DNA of the Moni Talks ethos - we needed to find a MFA solution that was highly secure yet a top class user experience. MIRACL's single-step, passwordless login is just what we need and provides the UX that we simply couldn't find with other MFA options."  
Rob Griffin, CEO at MIRACL adds, "When we were introduced to Moni Talks we knew immediately that we had the answer they were looking for. Moni Talks has created a fantastic interactive platform for the crypto sector, where engagement will be crucial so the best user experience is key to its success. When considering which multi-factor authentication they should use, there is no doubt that MIRACL would be the MFA of choice. With just a single-step, no password and superb security credentials, it was a no-brainer. We look forward to integrating MIRACL into Moni Talks and seeing the results in action."  
MIRACL is software-based and API-enabled to work from any device or browser. This means a quick and seamless integration with any device or platform being used. The software doesn't store personal data, passwords or PINs, so it's fully resistant to remote attacks - with zero security vulnerabilities. The old notion that your account login must trade off between security and usability  is no longer true, MIRACL offers both at the same time, and this seamless user experience offered has been the catalyst for this latest partnership. 
For further information on MIRACL please visit: www.miracl.com
For further information on Moni Talks please visit: www.monitalks.io
-ends-
For further press information, interviews or photography please contact the MIRACL press office:
sarah.sawrey-cookson@miracl.com   |  07765 110438
Notes to editors
About MIRACL 
Highly secure, password-free login in just two seconds. The fastest way to improve the user experience, decrease costs and win lost revenue. MIRACL Trust is a PSD2 compliant multi-factor solution for both authentication and transaction signing that runs natively on any device without downloads. It's GDPR friendly since no user data is stored or needed to integrate with any other identity or service platform. MIRACL's global portfolio of clients include Credit Agricole, Cashfac, Experian and Domino's Pizza. MIRACL's technology is licensed to the US Government, Intel, Google and Microsoft.
For more information visit miracl.com or follow them on social media: Twitter @MIRACL | LinkedIn MIRACL