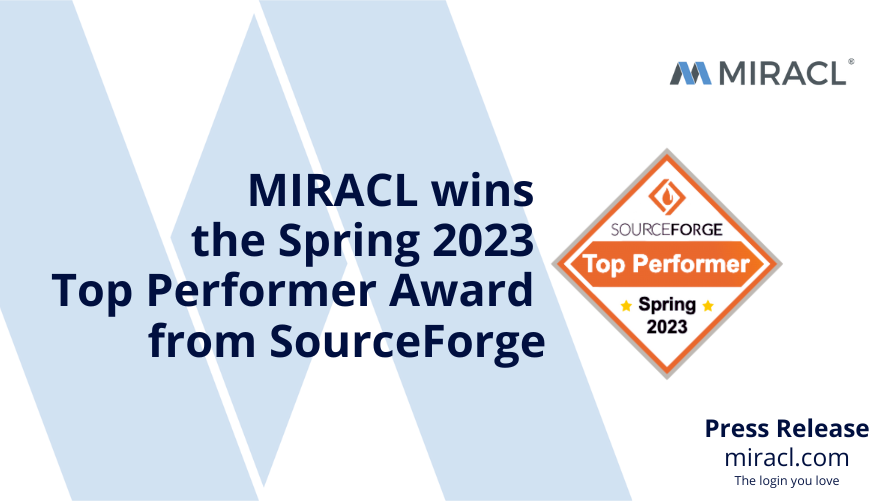 MIRACL is proud to be a winner of the Top Performer award from SourceForge, the world's largest software reviews and comparison website.
24 May 2023, London – MIRACL, the single-step, passwordless and patented multi-factor authentication solution, today announced that it has been awarded a Spring 2023 Top Performer Award by SourceForge, the world's largest software and services review and comparison website. This award recognises exceptional companies and products with a significant amount of recent favorable user reviews - and puts MIRACL in the top tenth percentile of highly reviewed products on SourceForge.
"We're happy to announce MIRACL as the winner of this year's outstanding Spring 2023 Top Performers" comments SourceForge President, Logan Abbott. "MIRACL showed that their users love them, as evidenced by the significant amount of outstanding user reviews. Congratulations."
To win the Spring 2023 Top Performer award, each winner had to receive enough high-rated user reviews to place the winning product in the top 10% of favorably reviewed products on SourceForge, which demonstrates the utmost quality that MIRACL delivers to customers and its' partners.
Rob Griffin, CEO at MIRACL comments, "Here at MIRACL, we're excited to accept the SourceForge Spring 2023 Top Performer Award. Our solution is the fastest multi-factor authentication available offering a friction-free, single-step solution for thousands of our users on a daily basis - and we're happy to see our users rewarding us with good reviews. And delighted to be valued by our customers and recognised by SourceForge yet again. Thank you!"
MIRACL is the world's fastest single-step and passwordless multi-factor authentication login favoured by iGaming organisations as well as retailers such as Rite Aid. Users authenticate with a 4-digit PIN or biometric where available. Software-based and API-enabled to work from any device or browser, means a quick and seamless integration with any device or platform being used. Through a zero-knowledge protocol, the software doesn't store personal data, passwords or PINs, and is fully resistant to remote attacks - with zero security vulnerabilities. The old notion that your account login must trade off between security and usability is no longer true, MIRACL offers both at the same time.  
For further information visit www.miracl.com
-ends-
For further press information or interviews please contact the MIRACL press office: 
sarah.sawrey-cookson@miracl.com
07765 110438
About MIRACL
Highly secure, password-free login in just two seconds. The fastest way to improve the user experience, decrease costs and win lost revenue. MIRACL Trust is a PSD2 compliant multi-factor solution for both authentication and transaction signing that runs natively on any device without downloads. It's GDPR friendly since no user data is stored or needed to integrate with any other identity or service platform. MIRACL's global portfolio of clients include Credit Agricole, Cashfac, MyLottoHub, Experian and Domino's Pizza. MIRACL's technology is licensed to the US Government, Intel, Google and Microsoft. In a recent customer report out of 50,407 logins, only 2 people needed to reset their PIN - a success rate of 99.99998%. 
For more information visit miracl.com or follow them on social media: Twitter @MIRACL | LinkedIn MIRACL
About SourceForge
SourceForge.net is the world's largest software comparison directory, serving nearly 30 million users every month and featuring user reviews, product comparisons, software guides, and more. SourceForge's mission is to help businesses find the best software to fit their needs and their budget. There are a variety of software tools available to businesses, and there are tools in almost every category and niche, each serving a slightly different purpose. SourceForge also powers the Slashdot.org/software/ business software and services directory.