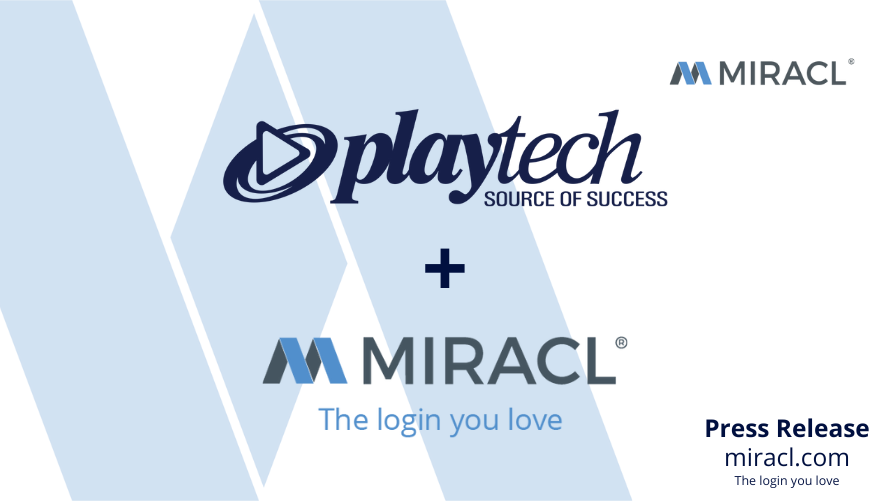 MIRACL, the world's only single step, multi-factor authentication (MFA), has today announced a new partnership with Playtech, the leading gambling technology company.
Acknowledged for our dedication to seamless, easily accessible gameplay, ensuring a superior, safe gaming experience remains a core objective. With the emergence of MFA iGaming regulations geared towards bolstering player login security, the incorporation of a solution that improves player UX offers the potential for advantages among our partners, covering aspects like revenue and customer support streamlining.
MIRACL is a passwordless, single-step PIN authentication that is recognised by the New Jersey DGE as an all-in-one full replacement to usernames, passwords and 2FA. In light of growing legislative changes, MIRACL is fast becoming the login of choice for many iGaming providers. With MIRACL, access to play is seamless and with a proven login success rate of 99.9%, any loss of traffic due to login friction is absolutely minimised. This makes MIRACL an ideal solution for the iGaming and Sports Betting industries.
Rob Griffin, CEO at MIRACL said, "MIRACL both increases operators' revenues by bringing them more traffic whilst cutting their costs by reducing the need for expensive customer support. Today, we are delighted to announce our partnership with Playtech to bring our passwordless, single-step yet highly secure login to their customers and users. Passwords are hard to remember, cumbersome for the user and a security nightmare. They are certainly not fit for purpose in the fast-paced, impulse-driven and multi-account environment of iGaming. MIRACL is fast becoming embedded and synonymous with iGaming and Sports Betting enabling the best, secure user experience login across the sector. We are thrilled to be announcing a partnership with the standing and market-reach of Playtech."
MIRACL eliminates the need for security practices such as passwords, SMS Texts, push notifications and key-cards. The use of true two-factor authentication coupled with the latest Zero Knowledge Proof (ZKP) patented technology means no personal data is stored or transmitted and there are no "honey-pots" of data exposed to attack, ensuring MIRACL Trust is completely GDPR friendly too. With a simple two second login via PIN or biometric, MIRACL customers see login success rates as high as 99.996%.
MIRACL's user-friendly, MFA solution helps to ensure that the online gaming experience is secure and protected against unauthorised access. This is important for both players and operators, as it helps to prevent fraud and to maintain the integrity of the games.
The Playtech/MIRACL partnership goes live with immediate effect.
-ends-
For further press information please contact: MIRACL, PR & Media Relations: Sarah Sawrey-Cookson +44 (0)7765110438 Email: sarah.sawrey-cookson@miracl.com
ABOUT MIRACL Highly secure, password-free login in just two seconds. The fastest way to improve the user experience, decrease costs and win lost revenue. MIRACL Trust is a PSD2 compliant multi- factor solution for both authentication and transaction signing that runs natively on any device without downloads. It's GDPR friendly since no user data is stored or needed to integrate with any other identity or service platform. It meets gaming MFA regulatory requirements of Ontario, New Jersey and Tennessee, with new territories being added every day. MIRACL's global portfolio of clients include Credit Agricole, Cashfac, Experian and Domino's Pizza. MIRACL's technology is licensed to the US Government, Intel, Google and Microsoft.
For more information visit miracl.com or follow them on social media: Twitter @MIRACL | LinkedIn MIRACL