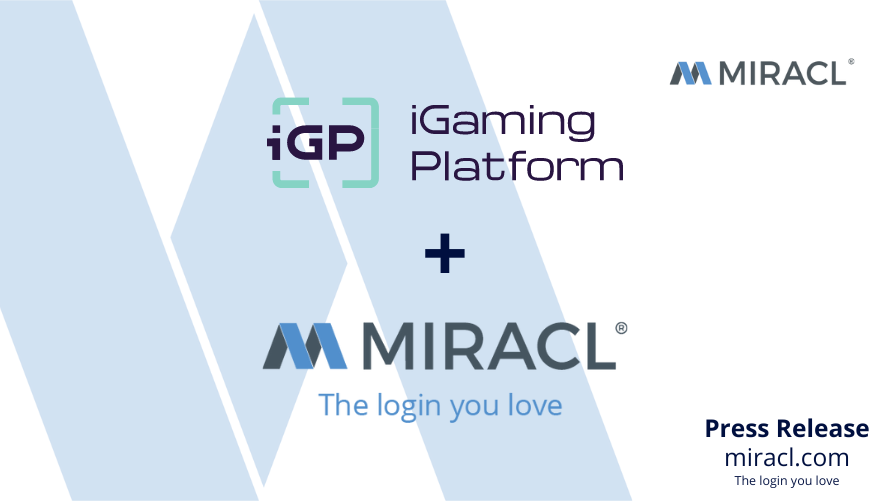 iGamingPlatform (iGP), a pioneering casino and sports betting platform provider, today announces a new partnership with MIRACL - a highly secure, passwordless multi-factor authentication (MFA).
As iGP expands rapidly within both regulated and emerging markets, equipping its operators with a friction-free passwordless login, that is also multi-factor, will maximise both traffic and revenues - whilst minimising support costs from account resets and other password-related issues. MIRACL, a single-step, passwordless MFA, is the world's fastest login but it also has the highest success rate meaning gaming customers get straight to their account with zero effort, regardless of what device or browser they are using.
MIRACL is the only multi-factor authentication that only requires one step for the user to login, which is the secret behind its proven login success rate of 99.9%.
iGP provides first-rate platform solutions in iGaming - with incredibly smooth and functional back-office and admin systems for its operators. It is able to provide technology that delivers the most engaging and advanced iGaming experiences. As a fast growing developer, iGP is quickly expanding into many regions, including South America and the need to embrace the best login experience from the outset is a priority.
Luka Markota from iGP comments, "As a business we are driven to provide technology that enables operators to consistently deploy the most engaging gaming experience possible, whilst still focusing on productivity flow and growth. That vital experience starts with the login, which is why we have announced our partnership with MIRACL today. 
Users hate passwords and as we expand in both MFA regulated and non-regulated regions, we need a passwordless login that does not just comply but improves the gamer's experience too. We believe that MIRACL brings gamers the best login user experience, as well as increased security, and we look forward to seeing it integrated into our platform and made available for as many of our operators as possible."
Rob Griffin, CEO at MIRACL added, "We're very pleased to be announcing our partnership with iGP today and look forward to working closely with them as they continue to grow and expand in both regulated and emerging markets. Competition is strong and knowing that they will be implementing MIRACL as their login of choice not only re-enforces their commitment to user security, but guarantees a passwordless, friction-free user experience too. We look forward to joining them on their increasingly successful journey." 
MIRACL eliminates the need for outdated security practices such as passwords, SMS Texts, push notifications and key-cards. The use of true two-factor authentication coupled with the latest Zero Knowledge Proof (ZKP) patented technology means no personal data is stored or transmitted and there are no "honey-pots" of data exposed to attack, ensuring MIRACL Trust is completely GDPR friendly too. With a simple two second login via PIN or biometric, MIRACL customers see login success rates as high as 99.996%.
In the gambling industry, security is of utmost importance. MIRACL's user-friendly, MFA solution helps to ensure that the online gaming experience is secure and protected against unauthorized access. This is important for both players and operators, as it helps to prevent fraud and to maintain the integrity of the games.  
-ends-
For further press information please contact:
MIRACL, PR & Media Relations: Sarah Sawrey-Cookson     +44 (0)7765110438   
Email: sarah.sawrey-cookson@miracl.com 
ABOUT MIRACL 
Highly secure, password-free login in just two seconds. The fastest way to improve the user experience, decrease costs and win lost revenue. MIRACL Trust is a PSD2 compliant multi-factor solution for both authentication and transaction signing that runs natively on any device without downloads. It's GDPR friendly since no user data is stored or needed to integrate with any other identity or service platform. It meets the most stringent gaming MFA regulatory requirements of New Jersey as well as others including Ontario, Pennsylvania, Iowa and Tennessee, with new territories being added every day. MIRACL's global portfolio of clients include Credit Agricole, Cashfac, Experian and Domino's Pizza. MIRACL's technology is licensed to the US Government, Intel, Google and Microsoft.
For more information visit miracl.com or follow them on social media: Twitter @MIRACL | LinkedIn MIRACL
ABOUT iGP
iGaming Platform (iGP) is provides a solution for anyone wanting to launch an online casino enterprise licensed by the Malta Gaming Authority (MGA).From 2017, iGaming Platform was pioneered in creating and developing the latest technology for various services required within the industry such as platform solutions made available to various markets.The company offers platform solutions that focus on the smoothest and most functional back-office and admin system. The platform supplies the technology needed to build and deploy the most engaging gaming experience and provides advanced progressive web App solutions for clients. For further information please visit www.igamingplatform.com