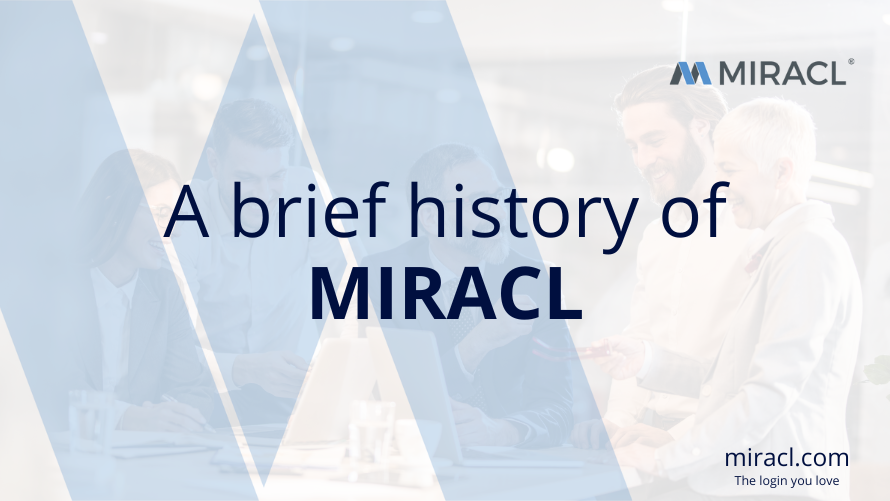 Today, MIRACL is quickly becoming established as the world's fastest, passwordless, single-step multi-factor authentication (MFA). Already used by a number of fintech organisations, it is more recently favoured by leading iGaming providers where its slick patented login enables an ultra-smooth customer experience - minimising abandoned bets and maximising profits.
But where did it all start and how did MIRACL get to become the ISO accredited organisation it is today? 
Founded in 2008, Omlis Limited was the holding company for MIRACL Technologies and Omlis Technologies - both cyber security software companies specialising in secure authentication and encryption. 
Its core product, MIRACL Trust,  was originally a two-factor authentication, built on a Zero Knowledge Protocol - with no singular point of compromise and distributed trust. This provided a very compelling login solution with unmatched tech driven by pioneering cryptographers, such as the highly respected, Dr. Michael Scott - who remains with the company to this day. 
In fact, these protocols behind MIRACL Trust were first published in academic circles over a decade ago - by Dr. Michael Scott, MIRACL's Chief Cryptographer, himself.  
They have since been cited over 100 times in cryptographic research.   
This valuable research was monetised in 2012 when, with an entirely different executive  team to those in the organisation today, huge investments were made in marketing to launch MIRACL Trust. However, because the focus was very tech led, with little product focus, growth for the business was an initial challenge. 
Specialising in regulated industries, where the demand for such a login was of critical importance  - such as Fintech and banking - was prioritised. Aligning with regulations such as GDPR and PDS2, MIRACL Trust could provide immediate compliance for companies through their unique zero knowledge proof login.      
In early 2019 the company was bought out by its current owners, led by Rob Griffin. With an enviable US investment background focussed exclusively on high growth, disruptive software companies, MIRACL was, and still is, an exciting challenge for Rob, the CEO. Specialising in mobile, SaaS and cybersecurity within investment - Palantir, FireEye, Nutanix, MongoDB notable names to mention - while also managing Ops and Marketing it is quite understandable how he has taken this niche cyber security solution from strength to strength. His team comprises:
Correy Voo, Chairman 
Partner of 01Ventures (deep tech' VC). Formerly CTO of UBS Group, Head of Tech Strategy at Bank of America, Chairman of the Open Data Center Alliance. From engineering to implementation, Correy has first-rate knowledge of secure and scalable enterprise applications and tech architectures.  
Grant Wyatt, Chief Operating Officer
Formerly the CTO of Omlis, Grant is experienced across development (originally a developer), sales (previously Regional Head of Sales at ACI), operations and project management; - delivering to customers on time and budget. He also has extensive knowledge of the payments sector. 
Michael Tanaka, Chief Commercial Officer 
Michael has a rich experience in technical sales, both in enterprise software as well as the head of equity sales in the technology division of investment banks. He is passionate about technology and has a background in science having studied astrophysics. 
Dr. Mike Scott, Head Cryptographer, Original Author of MIRACL 
Published 100+ highly cited academic papers. Developer and maintainer of MIRACL and AMCL cryptographic libraries. Co-discoverer of BLS and KSS elliptic curves
Since its take over with such an ambitious team, MIRACL has grown in brand presence and customer base significantly - now regularly sited in press as a thought-leader in login security - MIRACL CEO Rob Griffin: 'User experience is the number one differentiator right now' - whilst also gaining significant investment in recent times from US AWARE Inc, one of the worlds most credible identity solutions provider - Aware's Strategic Partnership with MIRACL Extends Its Cloud-Based Biometric Authentication Technology
Today MIRACL boasts clients from gaming to fintech to retail. It is ISO 270001 accredited - UK - MIRACL awarded international benchmark accreditation for information security - G3 Newswire  and has most recently been reviewed and certified as an MFA technology by GLI. High praise from the uber-competitive iGaming sector.
MIRACL is a PSD2 compliant multi-factor solution for both authentication and transaction signing that runs natively on any device without downloads. It's GDPR friendly since no user data is stored or needed to integrate with any other identity or service platform. It meets gaming MFA regulatory requirements of Ontario, New Jersey and Tennessee, with new territories being added every day. MIRACL's global portfolio of clients include MyLottoHub, A-Z Billions, Credit Agricole, Cashfac, Experian and Domino's Pizza. MIRACL's technology is licensed to the US Government, Intel, Google and Microsoft.